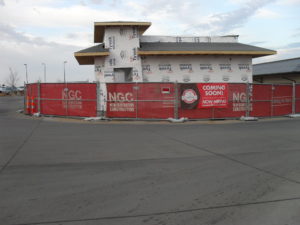 Temporary fence rental is a fast, efficient and economical way protecting your job site. Renting temporary fence through American Fence Company of Lincoln is a quick and easy process that guarantees that your site will be safely secured and ensures flexibility for your needs.
American Fence offers the installation and removal of the three following types of temporary fence:
In-ground temporary fence – This is the sturdiest and most commonly used style of temporary fence. This style is distinguished by posts that are installed deep into the ground, keeping it anchored.
Portable panel systems – This style uses a panel and stand system with a sand bag weight to hold them in place. It is used for cases that may involve moving the temporary fence around or if the rental fence is placed directly on a base of concrete.
Screened temporary fence – Usually includes windscreen as well as in-ground fencing. This style can help reduce the amount of debris or dirt that blows into public areas while providing additional privacy.
As an expert in the temporary fencing, American Fence Company of Lincoln is a renowned expert in rental fence and will work closely with you through the entire process of selecting and placing the temporary fence so you have the best possible experience. To get a free quote of your own, you can shoot a request online or to call American Fence Company of Lincoln today at 402-467-2511.