Aluminum Gates! Your best choice for light weight gate solutions.
Aluminum Cantilever Gates: Lightweight, Durable Option
Cantilever gates are easy to use and are space-efficient and long lasting. Our Aluminum Cantilever Gates are very light, and have protected rollers, they are resistant to rust and are available at a competitive price point. These are the safest gates on the market and are the least likely to hit you or your car.
Without any rollers that touch the ground, cantilever gates are a dream for areas that experience ice and snow. They are also the best gate to use on a slope, because they only go side to side and will not run into the problem of trying to swing open uphill. With only moving side to side, cantilever gates take up less space than other gates.
Steel vs. Aluminum
Steel and aluminum cantilever gates are alike in function, but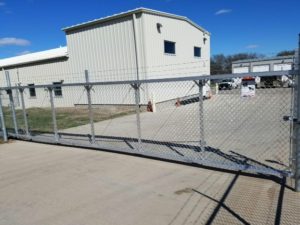 different overall. Steel cantilever gates are heavier and have four external rollers, whereas aluminum cantilever gates are light and have 8 concealed rollers.
The concealed truck assembly of the aluminum cantilever gate protects the wheels from the elements, unlike its steel counterpart. Weather can damage exposed wheels, making them more difficult and clunky to use. Keeping the wheels concealed in a truck assembly protects them so they always run smoothly and efficiently.
Slide gates are generally intended to be opened with ease with one hand. This can be difficult with a heavy metal like steel, but aluminum's lightweight construction makes it perfect for slide gates. The aluminum also ensures the gate will encounter less bow and sag, keeping it in tip-top shape.
Aluminum also has an inherent advantage over steel in that it will not corrode. Steel requires treatment to build up its corrosion resistance, while it is natural to aluminum. This resistance keeps aluminum looking shiny and new and helps it continue to move in one fluid motion.
Overall, aluminum will require less maintenance and will be easier to operate and take care of on a day-to-day basis. Visit America's Gate today to look into our premium gating options today.